Beschreibung
Robot camera YFAEYE
Achieves high speed processing at high frame rate
Compatible with a variety of image processing demands
black and white or color
Number of pixels: 5 million pixels / Equipped with CMOS sensor
Photographing speed: 70fps (12bit), 105fps (8bit)
Details of image processing: Inspection for presence/absence, Position detection, Character code identification, Measurement, Color identification
01 A single robot camera manages a series of processes from capturing photographs to image processing.
Equipped with image processing functions including capturing photographs, image processing circuits, CPU, and all necessary software programs, the YFAEYE is an all-in-one unit robot camera. You can directly connect the camera with robots and PLCs without an external board at all.
Besides capturing photographs, image processing, position detection, and character/code identification, the YFAEYE robot camera can control lighting at the same time. One single YFAEYE robot camera does it all for image processing.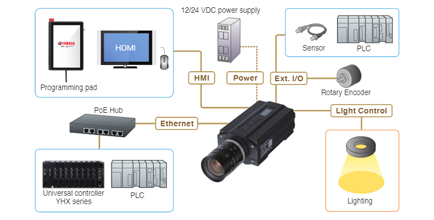 02 Setting parameters automatically
You use the programming pad compatible with touch-to-operate function to operate the camera.
Forget the pre-processes such as image registration and use of the filter and processes requiring skills such as extracting a special feature necessary for determining a search mode and parameter setting. Leave them to the camera. All you have to do is selecting a purpose. The camera takes care of the rest.
If necessary, you can further tune up the setting based on the automatically determined parameters.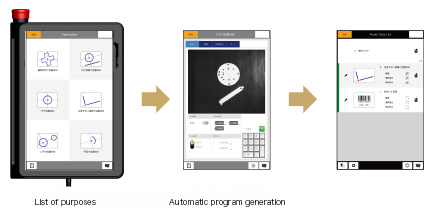 03 Auto calibration
Robots having two or more axes and method of installing the robot camera are compatible with the auto calibration function.
You simply follow the wizard. The camera will come up with complete set of highly accurate calibration settings for you. Even if the position is displaced, the camera restores the original condition immediately for processing on the spot.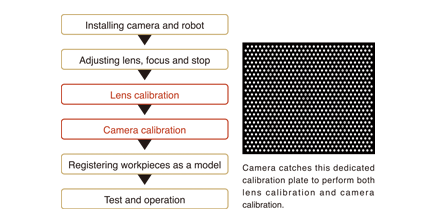 04 Seamless collaboration with Universal Controller
One Ethernet cable is all you need to connect the robot camera with an YHX series Universal Controller. The display is part of the YHX Universal Controller, making you feel to operate them as one unit. In a similar manner to program creation and point data editing, you can also register the work piece types.